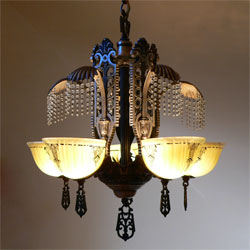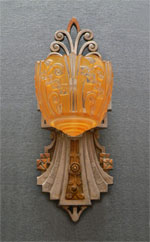 The Art Deco Period, of the 1920's and 1930's, produced one of the most distinctive styles in lighting. The fixture was an art form, an ornament for the room. The beautiful glass "slip shades" gave an unparalleled glow. Detailed designs were worked in a variety of metals with multi-colored patinas. The artists' imagination was given free rein to create what is now widely considered the epitome of lighting design...

Enjoy browsing our collection of chandeliers, sonces, and lamps. You may also be interested in viewing what we have available in our trading section.

...[Contact Deco-Nites]...